American food: The 15 greatest dishes
When it comes to American food, the country is best known for the stuff that's described by words better suited to greasy, grinding industrial output. But citizens of the USA have an impressive appetite for good stuff, too.
To celebrate its endless culinary creativity, we're throwing our list of 50 most delicious American food items at you.
The ASEAN country that's the next business hub
How a fresh approach is taking the Thai business environment to the next level.
Ground rules: acknowledge that even trying to define American food is tough; further acknowledge that picking favorite American items inevitably means leaving out or accidentally overlooking some much-loved regional specialties.
Now get the rubber apron on because we're going first. Let the food fight begin:
1. Key lime pie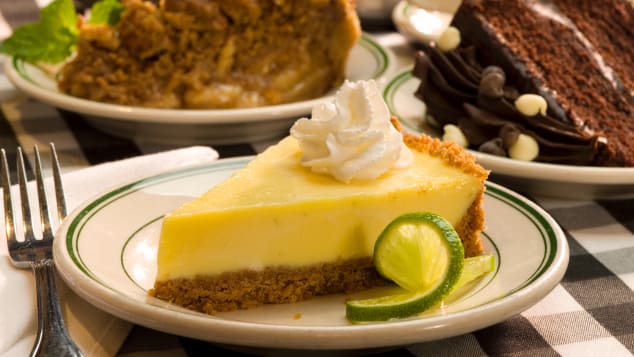 Key lime pie is a staple on south Florida menus.
Courtesy Joe's Stone Crab Restaurant
If life gives you limes, don't make limeade, make a Key lime pie. The official state pie of Florida, this sassy tart has made herself a worldwide reputation, which started in — where else? — the Florida Keys, from whence come the tiny limes that gave the pie its name.
Aunt Sally, a cook for Florida's first self-made millionaire, ship salvager William Curry, gets the credit for making the first Key lime pie in the late 1800s. But you might also thank Florida sponge fisherman for likely originating the concoction of key lime juice, sweetened condensed milk, and egg yolks, which could be "cooked" (by a thickening chemical reaction of the ingredients) at sea.
2. Tater tots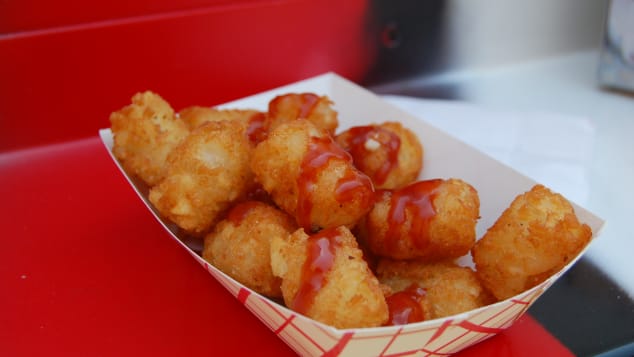 Tater tots are crunchy fried potatoes.
Courtesy stu_spivack/Creative Commons/Flickr
We love French fries, but for an American food variation on the potato theme, one beloved at Sonic drive-ins and school cafeterias everywhere, consider the Tater Tot.
Notice it often has the registered trademark — these commercial hash brown cylinders are indeed proprietary to the Ore-Ida company. If you'd been one of the Grigg brothers who founded Ore-Ida, you'd have wanted to come up with something to do with leftover slivers of cut-up potatoes, too. They added some flour and seasoning and shaped the mash into tiny tots and put them on the market in 1956. A little more than 50 years later, America is eating about 32 million kilos of these taters annually.
3. San Francisco sourdough bread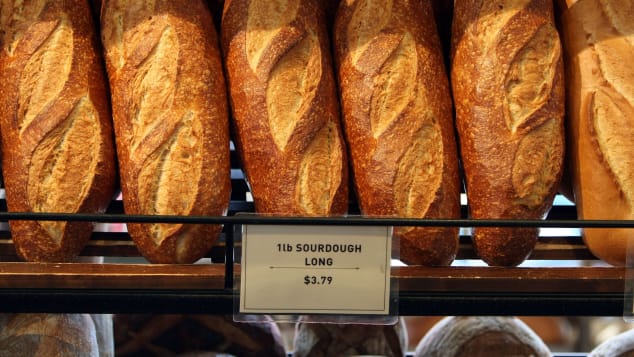 Bread is San Francisco's most beloved baked treat.
Justin Sullivan/Getty Images North America/Getty Images
Sourdough is as old as the pyramids and not coincidentally was eaten in ancient Egypt. But the hands-down American favorite, and the sourest variety, comes from San Francisco.
As much a part of NoCal culinary culture as Napa Valley wine, sourdough bread has been a staple since Gold Rush days. Once upon a frontier time, miners (called "sourdoughs" for surviving on the stuff) and settlers carried sourdough starter (more reliable than other leavening) in pouches around their necks or on their belts.
Thank goodness that's not the way they do it at Boudin Bakery, which has been turning out the bread that bites back in the City by the Bay since 1849.
4. Cobb salad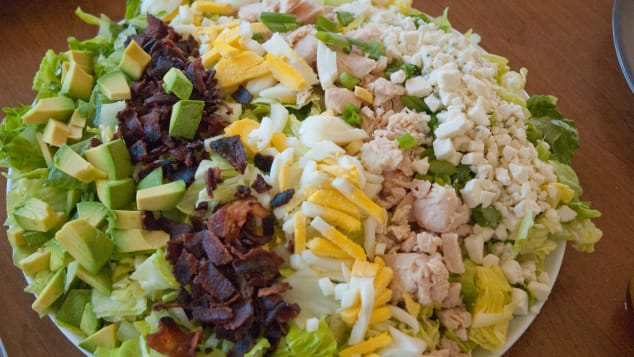 Originally made with leftovers, Cobb salad now one of America's favorite appetizers.
Courtesy Jodimichelle/Creative Commons/Flickr
The chef's salad originated back East, but American food innovators working with lettuce out West weren't going to be outdone.
In 1937, Bob Cobb, the owner of The Brown Derby, was scrounging around at the restaurant's North Vine location for a meal for Sid Grauman of Grauman's Theater when he put together a salad with what he found in the fridge: a head of lettuce, an avocado, some romaine, watercress, tomatoes, some cold chicken breast, a hard-boiled egg, chives, cheese, and some old-fashioned French dressing.
Brown Derby lore says, "He started chopping. Added some crisp bacon, swiped from a busy chef." The salad went onto the menu and straight into the heart of Hollywood.
5. Pot roast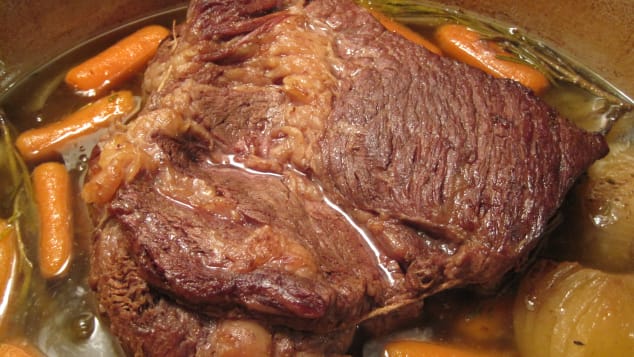 Braised beef and vegetables — the perfect warming hot pot.
Courtesy Kim/Creative Commons/Flickr
The childhood Sunday family dinner of baby boomers everywhere, pot roast claims a sentimental favorite place in the top 10 of American comfort foods. There's a whole generation that would be lost without it.
Beef brisket, bottom or top round, or chuck set in a deep roasting pan with potatoes, carrots, onions, and whatever else your mom threw in to be infused with the meat's simmering juices, the pot roast could be anointed with red wine or even beer, then covered and cooked on the stovetop or in the oven.
6. Twinkies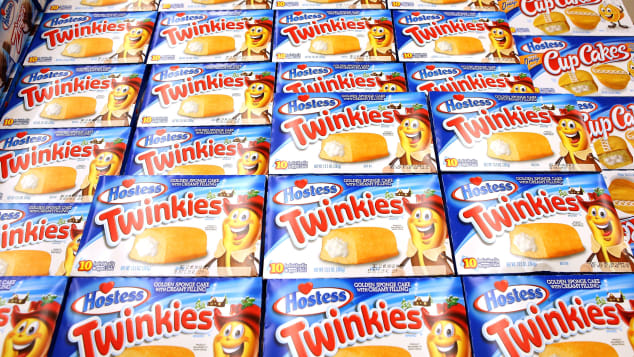 Twinkies are known for their durability and shelf life — rumour says they could survive a nuclear attack.
Scott Olson/Getty Images North America/Getty Images
Hostess' iconic "Golden Sponge Cake with Creamy Filling" has been sugaring us up since James Dewar invented it at the Continental Baking Company in Schiller Park, Illinois, in 1930.
The Twinkie forsook its original banana cream filling for vanilla when bananas were scarce during World War II. As if they weren't ridiculously good enough already, the
 Texas State Fair
 started the fad of deep-frying them.
Dumped in hot oil or simply torn from their packaging, Twinkies endear with their name (inspired by a billboard advertising Twinkle Toe Shoes), their ladyfinger shape (pierced three times to inject the filling), and their evocations of lunchtime recess. They were temporarily taken off the shelves between November 2012 to July 2013 — when Hostess filed for bankruptcy. Now they are back and going strong.
7. Jerky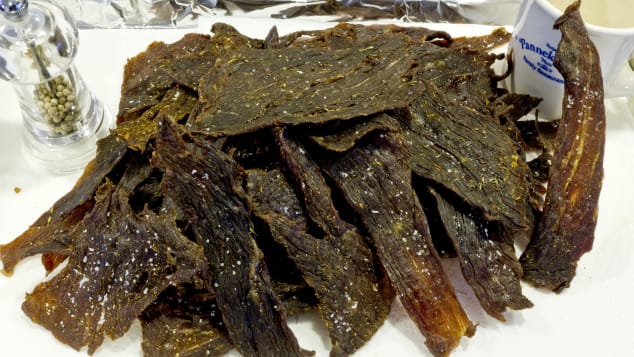 Courtesy Larry Jacobsen/Creative Commons/Flickr
Dehydrated meat shriveled almost beyond recognition — an unlikely source of so much gustatory pleasure, but jerky is a high-protein favorite of backpackers, road trippers, and snackers everywhere.
It's American food the way we like our wilderness grub — tough and spicy.
We like the creation myth that says it's the direct descendant of American Indian pemmican, which mixed fire-cured meat with animal fat. Beef, turkey, chicken, venison, buffalo, even ostrich, alligator, yak, and emu. Peppered, barbecued, hickory-smoked, honey glazed. Flavored with teriyaki, jalapeno, lemon pepper, chili.
Jerky is so versatile and portable and packs such nutritional power that the Army is experimenting with jerky sticks that have the caffeine equivalent of a cup of coffee.
However you take your jerky — caf or decaf; in strips, chips, or shreds — prepare to chew long and hard. You've still got your own teeth, right?
8. Fajitas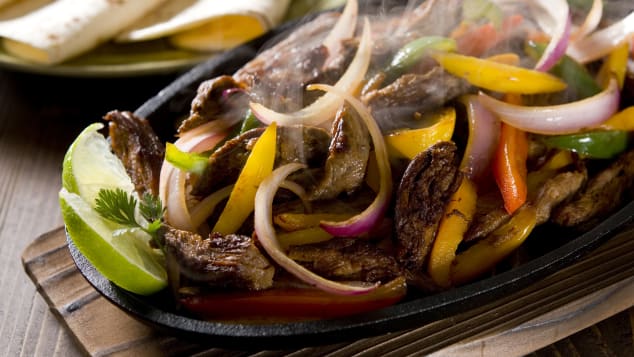 Fajitas: the epitome of Tex-Mex cuisine.
Courtesy Shutterstock
Take some vaqueros working on the range and the cattle slaughtered to feed them. Throw in the throwaway cuts of meat as part of the hands' take-home pay, and let cowboy ingenuity go to work.
Grill skirt steak (faja in Spanish) over the campfire, wrap in a tortilla, and you've got the beginning of a Rio Grande region tradition. The fajita is thought to have come off the range and into popular culture when a certain Sonny Falcon began operating fajita taco stands at outdoor events and rodeos in Texas beginning in 1969.
It wasn't long before the dish was making its way onto menus in the Lone Star State and spreading with its beloved array of condiments — grilled onions and green pepper, pico de gallo, shredded cheese, and sour cream — across the country. Don't forget the Altoids.
9. Banana split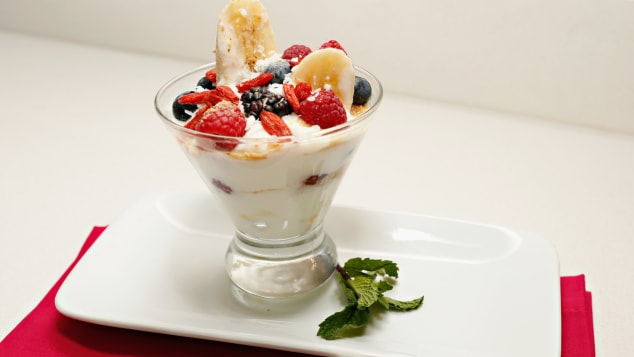 The banana makes it good for you, right?
Cindy Ord/Getty Images North America
Like the banana makes it good for you. Still, kudos to whoever invented the variation of the sundae known as the banana split. There's the 1904 Latrobe, Pennsylvania, story, in which future optometrist David Strickler was experimenting with sundaes at a pharmacy soda fountain, split a banana lengthwise, and put it in a long boat dish.
And the 1907 Wilmington, Ohio, story, wherein restaurant owner Ernest Hazard came up with it to draw students from a nearby college. Fame spread after a Walgreens in Chicago made the split its signature dessert in the 1920s. Whatever the history, you'll find plenty food for thought at the annual Banana Split Festival, which takes place on the second weekend in June in Wilmington.
10. Cornbread
Cornbread is popular across the country, but it's a Southern classic.
Courtesy Alice Henneman/Creative Commons/Flickr
It's one of the pillars of Southern cooking, but cornbread is the soul food of many a culture — black, white, and Native American — and not just south of the Mason-Dixon. Grind corn coarsely and you've got grits; soak kernels in alkali, and you've got hominy (which we encourage you to cook up into posole). Leaven finely ground cornmeal with baking powder, and you've got cornbread.
Southern hushpuppies and corn pone, New England johnnycakes; cooked in a skillet or in muffin tins; flavored with cheese, herbs, or jalapenos — cornbread in any incarnation remains the quick and easy go-to bread that historically made it a favorite of Native American and pioneer mothers and keeps it on tables across the country today.
11. GORP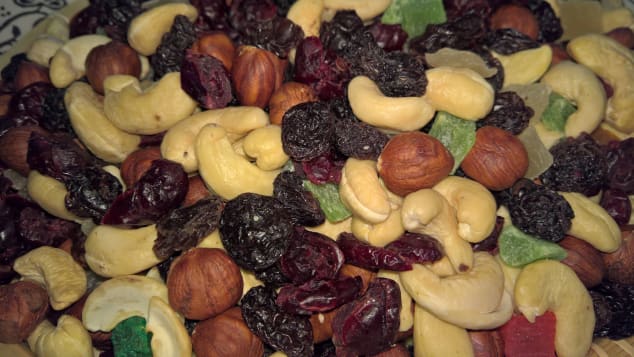 Trail mix: fueling hikers across the United States.
Courtesy Helen Penjam/Creative Commons/Flickr
"Good Old Raisins and Peanuts," GORP is the energy salvation of backpackers everywhere.
Centuries before trail mix came by the bag and the bin, it was eaten in Europe, where hiking is practically a national pastime.
The thing to remember here is that the stuff is American food rocket fuel. Add all the granola, seeds, nuts, dried fruit, candied ginger, and M&Ms you want. Just be sure to store in a bear-proof canister because suspending from a branch in a nylon sack isn't going to do it.
12. Jambalaya
Whether you have it Creole style or Cajun, Jambalaya is a delicious dish.
Courtesy Gloria Cabada-Leman/Creative Commons/Flickr
Jambalaya, crawfish pie, file gumbo … what dish could be so evocative that it inspired Hank Williams to write a party song for it in 1952 and dozens more to cover it (including everyone from Jo Stafford to Credence Clearwater Revival to Emmylou Harris)?
The sweep-up-the-kitchen cousin of Spanish paella, jambalaya comes in red (Creole, with tomatoes) and brown (Cajun, without). Made with meat, vegetables (a trinity of celery, peppers, and onions), and rice, Louisiana's signature dish might be most memorable when made with shrimp and andouille sausage.
Whatever the color and secret ingredients, you can be sure of one thing when you sit down with friends to a big bowlful: son of a gun, gonna have big fun on the bayou.
13. Biscuits 'n' gravy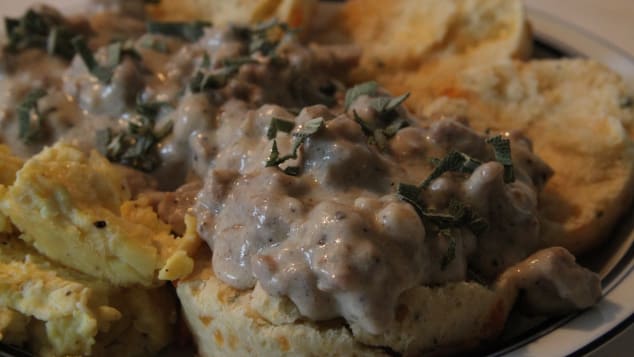 American biscuits are more akin to European scones.
Courtesy @joefoodie/Creative Commons/Flickr
An irresistible Southern favorite, biscuits and gravy would be a cliche if they weren't so darned delicious.
The biscuits are traditionally made with butter or lard and buttermilk; the milk (or "sawmill" or country) gravy with meat drippings and (usually) chunks of good fresh pork sausage and black pepper. Cheap and requiring only widely available ingredients, a meal of biscuits and gravy was a filling way for slaves and sharecroppers to face a hard day in the fields.
"The Southern way with gravies was born of privation. When folks are poor, they make do. Which means folks make gravy," says The Southern Foodways Alliance Community Cookbook. The soul, you might say, of soul food.
14. Smithfield ham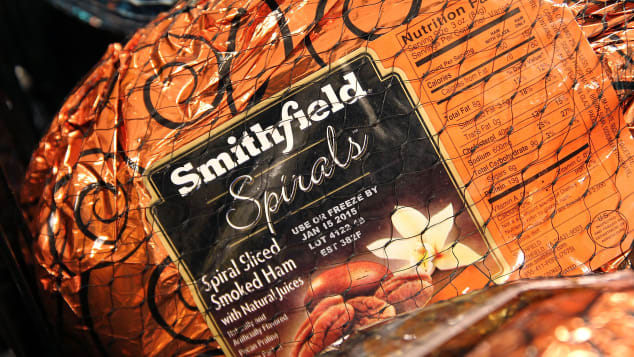 Legend has it that the first sale of Smithfield Ham occured in 1779.
Paul Morigi/Getty Images North America/Getty Images for Smithfield
"Ham, history, and hospitality." That's the motto of Smithfield, Virginia, the Smithfield of Smithfield Virginia ham. Notice "ham" comes before history, which really says something considering this hamlet of 8,100 was first colonized in 1634.
Epicenter of curing and production of a head-spinning number of hogs, Smithfield comes by the title Ham Capital of the World honestly: lots of ham is called Virginia, but there's only one Smithfield, as defined by a 1926 law that says it must be processed within the city limits.
The original country-style American ham was dry cured for preservation; salty and hard, it could keep until soaked in water (to remove the salt and reconstitute) before cooking. The deliciously authentic cured Virginia country ham happens to have been the favorite of that famous Virginian, Thomas Jefferson.
15. Chicken fried steak
How do you make steak even tastier? Pan fry it in bread crumbs, of course.
Courtesy kennejima/Creative Commons/Flickr
A guilty pleasure if there ever was one, chicken fried steak was born to go with American food classics like mashed potatoes and black-eyed peas.
A slab of tenderized steak breaded in seasoned flour and pan fried, it's kin to the Weiner Schnitzel brought to Texas by Austrian and German immigrants, who adapted their veal recipe to use the bountiful beef found in Texas.
Lamesa, on the cattle-ranching South Texas plains, claims to be the birthplace of the dish, but John "White Gravy" Neutzling of Lone Star State cowboy town of Bandera insisted he invented it. Do you care, or do you just want to ladle on that peppery white gravy and dig in?